Water Storage Tank Replacement in Snohomish, WA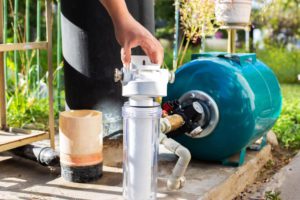 Do you have a water storage tank on your property? Water tanks are useful to help you store water for times when you don't have water. They can also improve the quality and quantity of your water pressure. However, water storage tanks don't last forever. You may need to replace it after a while to maintain the quality of your water. Here at Specialty Pump & Well, we can install and repair water storage tanks in Snohomish, WA, and surrounding areas. 
Feel free to contact us online or at (425) 487-0123 to schedule your consultation for a water tank replacement. 
Signs You Need To Replace Your Water Tank
You may not see your water tank all the time, so it can be hard to know when it needs replacing. Of course, if it can no longer supply your water demands, it is an obvious sign that you need a new water tank. Here are a few things to look for to help you determine whether you need to replace your water storage tank:
Age
Once your water tank reaches a certain age, the quality and quantity of your water may suffer. The average lifespan of a water tank depends on the material. Some materials last longer than others. However, water storage tanks last about 20-25 years before they need to be replaced. If your water tank is around that age and giving you more problems than it used to, you should consider a replacement. Although this may be a daunting task, a brand-new water tank will provide a higher quality of water than your old one. 
Visible Wear or Damage
Your water tank is under immense pressure as it holds large amounts of water. It is susceptible to wear and tear. The type of wear and tear also depends on the material. You should inspect your water tank on a regular basis for the following signs of damage:
Rust

Leaks

Holes or punctures

Loss of pressure

Irregular pump cycling

Excessive air in the plumbing system
Low-Quality Water
If you notice impurities in your water, it could be due to a buildup of sediment or sludge at the bottom of your tank. You'll also notice that your water is cloudy or discolored. While these signs may mean you need a replacement, your water tank may simply need to be flushed out to remove the excess sludge. A buildup of sludge may occur if there is not enough rainfall. 
Why Should You Choose Us to Install Your New Water Tank?
Here at Specialty Pump & Well, we have a team of expert plumbers who will handle your water storage tank replacement. We will guide you through the installation process to ensure that everything goes smoothly. Here are a few reasons to choose us to handle your water tank replacement:
Expert Advice
There is a variety of water storage tanks to choose from. They are made from different materials and come in a range of sizes. These aspects will depend on your budget and individual needs. We offer the following water tank installations:
Well water storage tank

Underground water storage

Home water storage tanks systems
In addition to helping you choose the right water tank replacement, we will recommend the best location and environment to keep your water tank. This will help you protect your water tank from unnecessary wear and tear. 
High-Quality Installation
If your water tank is not installed correctly, you may experience problems in the near future. We will help you bypass these problems by ensuring your tank is installed correctly from the beginning. 
Maintenance and Repairs
Not only do we offer water tank installations, but we can handle your regular maintenance and unexpected repairs. We provide a range of water tank services. You can count on us to take care of your water tank from the beginning to the end. 
Reliable Water Tank Replacements in Snohomish, WA
Trust our competent team at Specialty Pump & Well with all your water tank replacement services. We provide prompt service for those emergencies. We understand how important your well water storage tank is, especially if it is your primary water source. 
If you would like more information on our water tank replacement services in Snohomish, WA, and surrounding areas, contact us online or call us at (425) 487-0123.