Well Maintenance in Snohomish, WA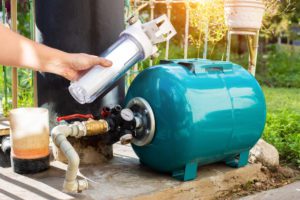 Proper water well maintenance is critical for homeowners who rely on well water in Snohomish, WA. Neglecting regular upkeep can result in costly and severe issues. Consistent well maintenance ensures that pumps and pipes are in good condition, maintains safe pH levels and water pressure year-round, and protects against harmful contaminants. Failure to maintain a well can lead to deadly contaminants like radon and heavy metals entering your home's water system, posing serious health risks to you and your family.
At Specialty Pump & Well, we offer comprehensive well maintenance services in Snohomish, WA. Our experienced team of professionals can ensure your pumps operate safely and efficiently, providing you with a reliable water supply and peace of mind. With fast response times and convenient appointment scheduling, our experts strive to provide the highest quality service at an affordable price.
Need help with well maintenance in Snohomish, WA? Contact us today at (425) 487-0123 or simply fill out our online form to get in touch with us.
What Is Professional Well Maintenance
Professional well maintenance services are important for keeping your water system in top working condition. This includes:
Looking for signs of corrosion or wear-and-tear on essential parts such as the pump, pressure tank, and pipes

Testing the water regularly to ensure harmful bacteria levels are not present

Inspecting pipes for leaks or blockages
All of these are necessary to prevent any issues with water pressure or quantity that can be costly down the road. Taking these proactive measures helps to identify any potential problems before they become a greater issue, allowing you to maintain reliable access to clean, safe water.
The Benefits of Professional Well Maintenance
Having regular professional well maintenance done by us can help extend the life of your equipment and prevent safety hazards from developing. By regularly performing tests to check for bacteria in the water, you can rest assured that your family is getting clean drinking water without contaminants or other dangerous elements in your supply. Regular inspections will also help you avoid costly repairs due to malfunctions or breakdowns, which could be significantly more expensive than a simple preventative maintenance appointment.
What to Expect From a Professional Well Maintenance Appointment in Snohomish
When you schedule an appointment with us for professional well pump maintenance, we'll begin by inspecting all its components to ensure everything is functioning correctly and up to safety standards. We'll check for any signs of corrosion or rust on pumps or tanks that could cause leaks or other problems down the line. 
If necessary, we will provide replacement parts on-site. We'll also test samples of your water supply to ensure it meets safety standards and is free from contaminants like bacteria and sediment that could harm you or your family's health over time if left undetected.
How Often Should You Have Well and Pump Service
It is recommended that you have a professional inspection every year to keep your system running smoothly without any unexpected problems arising; however, some factors may require more frequent appointments depending on how often it is used and where it is located geographically (in areas with harsher climates). 
If there are any specific concerns about the condition of your well pump system, then it would be best to get them checked out sooner rather than later. That way, they don't worsen over time, resulting in costly repairs down the road.
When Is the Best Time of Year to Perform a Maintenance Inspection?
It's important to take good care of your well and its pumping systems, whether it's summer or winter. In the summer months, we tend to use our system more than usual, so scheduling a maintenance inspection for the late fall or early winter is highly recommended. Well maintenance services are available to help ensure your well water functions correctly and at its best capacity.
Professional Water Well Maintenance Services in Snohomish, WA
Specialty Pump & Well in Snohomish, WA, offers a wide range of well maintenance services that are designed to keep your water wells running properly. We know that when the time comes for well maintenance, it's important to get the job done quickly and correctly. That's why we take special care with our water well maintenance and well pump repair, ensuring that all jobs meet or exceed required regulations and safety standards.
If you need assistance with well maintenance in Snohomish, WA, our expert technicians are ready to answer your questions and provide a reliable solution. Get in touch with us today at (425) 487-0123 or contact us online for prompt assistance.