Sump Pump Repair in Snohomish, WA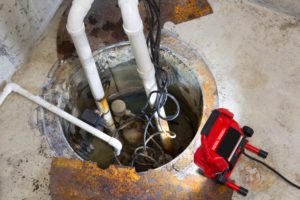 Our plumbing system is one of the most important systems in our homes. It allows us to use our toilet, shower, faucets, and more. In addition, your plumbing system removes wastewater from your property. One essential part of your plumbing system is your sump pump. Your home could be in serious trouble without a functioning sump pump. Here at Specialty Pump & Well, we offer sump pump repairs and other sump pump services to keep your home running smoothly. We have a team of skilled plumbers who will come to your air for emergency sump pump repairs. 
Contact us at (425) 487-0123 or complete an online form to schedule a consultation with one of our expert plumbers. 
What Is a Sump Pump?
You may not know what a sump pump is. That can make it challenging to know when something is wrong with it. A sump pump is an essential part of your plumbing system that removes excess water from your basement in the event of a flood. The sump pump takes this water outside your home to protect your home from water damage. If you have flooded your basement, you know how useful a sump pump can be. 
A sump pump contains a valve below your basement floor to sense excess water pressure. A sump pump is usually installed in a pit below the floor, where it can detect rising water pressure easily. Once the pressure reaches a certain level, your sump pump will automatically remove the water by pumping it out of your basement via a discharge line to direct it to your property's drainage system. 
One of the most important functions of a sump pump is to direct the excess water to the right place. You wouldn't want to cause water damage to another area of your property. If your sump pump drains water anywhere other than the drainage system, you may need sump pump repairs. 
Sump Pump Repairs
If your sump pump is showing signs of trouble, don't panic. You may not need a sump pump replacement. Repairs could easily be the solution. It is best to reach out to us for expert advice regarding the condition of your sump pump. It is also vital to contact us as soon as you notice a fault with your sump pump. You do not want to be left without your sump pump if your basement floods unexpectedly. Here are some signs that you need sump pump repairs:
Your Sump Pump Won't Drain
The most obvious sign that something is wrong is when your sump pump won't drain properly. This can happen from time to time. Your sump pump drainage system may be clogged. Our expert plumbers will look for the obstruction and remove it in no time. 
No Power
Since your sump pump relies on electricity and comes into contact with water, it must be connected to a GFCI (ground fault interrupt circuit) power source. This will protect you and those in your home from electrocution. If your sump pump has no power, there may be an electrical issue in the system. We will check for electrical problems and restore power to your sump pump.
Loud Noises
It is never a good sign when any appliance makes a loud noise. This is usually a sign that one of the components is faulty. If your sump pump makes an unusually loud noise, contact us as soon as possible. We will inspect the system to identify the faulty component. 
Do You Need a Sump Pump Replacement?
A sump pump replacement is a last resort. Our plumbers will do everything they can to find a solution before recommending a replacement. However, at some point, your sump pump will reach the end of its lifespan and need a replacement. We can help you with that too! Our sump pump services cover repairs, installations, replacements, and maintenance. You can count on us for all your sump pump needs. 
Reliable Sump Pump Repair Services in Snohomish, WA
When it comes to your sump pump, leave it to the professionals at Specialty Pump & Well. We know our way around these essential plumbing systems. You are getting the best value for your money with us.
For more information on our sump pump repair services, contact us online or call us at (425) 487-0123.