Sump Pump Installation in Snohomish, WA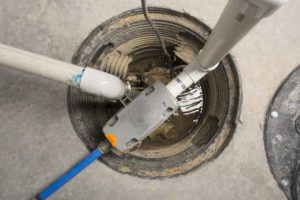 When it rains, it pours. This saying is especially true when your basement floods during a storm. In addition to dealing with the water, you will also need to address water damage restoration. Even if you respond swiftly, there will still be a lot of clean-up work to do. To prevent future flooding, consider a sump pump installation from Specialty Pump & Well in Snohomish, WA. Your basement will stay dry no matter the weather outside.
At Specialty Pump & Well, our technicians receive extensive training to ensure the sump pump installation is done correctly. Contact us online or call (425) 487-0123 to schedule an appointment. 
Understanding Sump Pumps: How Do They Work?
A sump pump is a crucial device that is often installed in the lowest part of a home, typically in the basement or crawl space, to protect the property from flooding during heavy rains. Essentially, it works by collecting water that would otherwise flood the home and diverting it to a sump pump pit. Once the water in the pit reaches a certain level, a float valve on the pump is activated, which causes the pump to flush out the water to keep the home dry. If you are unfamiliar with sump pumps or would like to learn more about them, please do not hesitate to contact our sump pump installation company for further information.
Assess Your Needs: Do You Require a Sump Pump Installation or Replacement?
Many homeowners are unaware that their houses are located in floodplains that may undergo changes without their knowledge. To minimize the risks of flooding, it's often a good idea to install a sump pump, even if your house is not in a floodplain. But how can you tell if you need one?
One indicator is the age of your sump pump; if it's older than six years, consider replacing it. Another factor to consider is the topography of your property; houses on a slope or flat terrain can also benefit from a sump pump. Additionally, if your basement has flooded before or you keep important items there, it's wise to have a sump pump installed as soon as possible. The costs of doing so are much less than the costs of repairing water damage and replacing ruined possessions.
Find the Perfect Sump Pump for Your Home
You must consider many factors when selecting a sump pump. Will you need a submersible sump pump, or is a pedestal pump the better option? Horsepower plays a role in which pump you should buy, and you also need to consider the housing and switch. These factors are only a few of several that need to be discussed when investing in a sump pump. We will help you find the right model for your home and needs. 
Our Comprehensive Sump Pump Services: Installation, Replacement, and Beyond
At our sump pump installation company, we provide comprehensive sump pump services to ensure your home remains protected from flooding and water damage. Whether you require installation, replacement, repair, or testing of your sump pump system, our experienced team is equipped to handle all your needs. We understand that a functional sump pump is crucial in safeguarding your home and belongings from costly water damage, especially during rain and storm seasons. That's why we offer same-day repair and battery backup installation services to give you peace of mind even in power outages.
Don't wait until it's too late; schedule regular sump pump testing to avoid unexpected system failure and potential water damage to your home. Our team is dedicated to delivering prompt and trustworthy services to streamline your experience. Call us today to book an appointment and keep your sump pump working at its best.
Why Specialty Pump & Well Is the Best Choice for Your Sump Pump Installation
Specialty Pump & Well is a highly experienced pump and well company with over 30 years of experience in sump pump installation. We are the Pacific Northwest's most trusted pump and well company and offer a wide range of services to assist with any pump or well project. With a 100% satisfaction guarantee and 24-hour emergency service, you can rest assured that your sump pump will always function properly.
Our technicians undergo rigorous training to ensure prompt and efficient service. Failure of a sump pump can lead to severe damage and pose a health risk due to the growth of mold and mildew. In addition, standing water can damage the foundation of your property. However, we can help prevent such occurrences with our expert installation and maintenance of sump pumps.
Take control of your home's safety and protect it from the dangers of water damage. Contact us online or by calling (425) 487-0123 to schedule your sump pump installation or to learn more about how we can help you safeguard your home.